Dental Veneers in Epping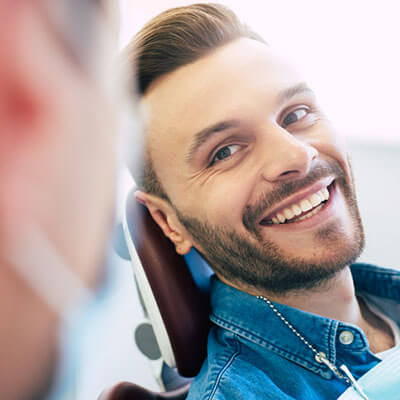 Have you always wanted a straighter smile? Perhaps you'd like to correct gaps between your teeth. Maybe discolouration is something that plagues you.
Veneers fit over your natural tooth much like a fake nail—except they're extremely durable, functional and long-lasting—and can be used to create a straighter, more even smile you're proud to show off.
At
Epping Family Dental
, we offer state-of-the-art IPS e.max® material for our veneers, so you can put your best smile forward.
What to Expect
The process for getting the smile of your dreams has never been easier. In fact, in just a few quick visits to our practice, your smile will be ready to show off to the world!
We'll start with a consultation to discuss your smile goals and recommend the best course of care for you. If you choose to move forward, we'll take scans and moulds of your mouth, which will allow us to simulate what the results will look like before ever undergoing any treatment.
Once you approve your mock-ups, your scans will be sent to the lab to be carefully crafted by experts using today's most advanced dental technology. We use IPS e.max because of its strength and range of translucencies that provide the most natural-looking smile. When your veneers are ready, we'll bring you back in. If you're satisfied with the final appearance, your dentist will cement them onto your teeth. You'll exit our practice feeling happy with your new smile.
Frequently Asked Questions
Up to 10 years, depending on how well you care for them. Maintaining proper oral hygiene, as well as visiting us for your regular appointments, will ensure they last as long as possible.
If you're looking to revamp your smile without extensive restoration or orthodontic work, this may be an ideal solution for you. We'll let you know our recommendations at your consultation.
Your veneers will be customised specifically for your needs, and we can offer you a cost estimate once we have identified the scope of your treatment, based on our consultation and examination.
Is there an age limit for this service?
Generally, we don't offer this approach for children whose teeth and jaw haven't fully developed. If you have further questions about age restrictions, we invite you to contact us for a conversation—we'd love to connect with you.
Schedule Today
Contact us today to book your consultation, or use our convenient online booking feature.
CONTACT US »

Dental Veneers Epping, Carlingford, Sydney NSW | (02) 9868 6288