Veneers in Epping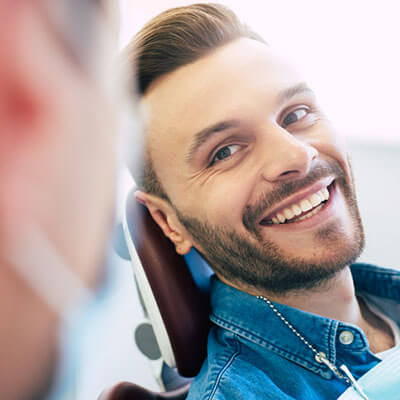 Have you always wanted a straighter smile? Or, perhaps you'd like to correct gaps between your teeth? Maybe discolouration is something that plagues you.
If that sounds familiar, we've got good news-veneers may be the perfect option for you.
Porcelain veneers fit over your natural tooth much like a fake nail, except they're extremely durable, functional and long-lasting-in some cases, for upwards of 10 years.
Are you a good candidate for this treatment? We'd love to speak with you to help you learn more about the benefits.
What to Expect
The process for getting the smile of your dreams has never been easier. In fact, in just a couple of quick visits to our practice, your veneers will be placed and ready to show off to the world.
The process begins when you schedule a consultation with us. At this visit, we'll get a chance to talk about your overall smile goals and recommend the best course of care for you. If veneers are the best option and you'd like to move forward, we'll take scans and moulds of your mouth that will allow you to see your finished result before ever undergoing any treatment.
Once you approve your mockups, your scans will be sent to a lab and carefully crafted by experts and today's most advanced dental technology. we will work on fabricating the veneers inhouse from IPS e.max®. e.max® is the preferred material of choice by far because of its strength and range of translucencies that will make for the most natural looking veneers.
When we receive your veneers in the coming weeks, we'll invite you back for placement in which they'll be cemented onto your teeth. Don't worry-you'll have full control on approving them before doing so. We guarantee you'll be happy and won't be able to tell they are veneers.
If you like the look and are ready to move forward, we'll place them and send you on your way. You'll exit our practice feeling confident and happy with your new smile.
Frequently Asked Questions
Up to 10 years. For some patients, they may last longer or for less time-it really boils down to how well you care for them. Maintaining proper oral hygiene as well as visiting us for your regular appointments will ensure they last as long as possible.
If you're looking to revamp your smile without the need for an extensive restoration or orthodontic work, this may be the ideal treatment for you. You'll also be able to see your final results before the veneers are ever placed thanks to computer imaging. If you'd like to begin with the process after your initial consult, we'll get everything rolling!
Because veneers are custom to each person, giving an upfront cost is quite difficult until we're able to see you and inspect your goals and needs. It's also possible that you'll want multiple veneers, as patients typically do 4-6 or more at a time. At your consultation, we'll be able to present you with
Is there an age limit for this treatment?
Generally, we don't place veneers on children who haven't fully developed their teeth and jaw. Adults are usually excellent candidates for veneers if they'd like to correct a variety of problems, including chipped or broken teeth, misaligned teeth and even discoloured teeth. If you have further questions on age restrictions, we invite you to contact us for a conversation-we'd love to connect with you.
Book Your Consult Today
If you're considering veneers, we'd love to speak with you about the best cosmetic options for your smile. Contact our team today to book an appointment and begin the process.
As a reminder, we're proud to participate in a variety of payment plans to help you receive the care you need when you want it.
Begin the journey to your new and improved smile today.

Veneers Epping, Eastwood, Carlingford NSW | (02) 9868 6288