ClearCorrect in Epping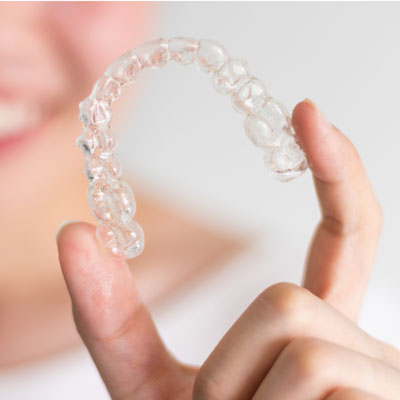 A beautifully aligned smile is one of the best accessories anyone can possess. But if your teeth are crooked or gapped, you may feel too self-conscious to smile. At Epping Family Dental, we offer ClearCorrect, which is ideal for adults looking for an aesthetically pleasing alternative to metal braces.
Practically invisible, ClearCorrect aligners are also comfortable and removable. You can enjoy your favourite foods and brush and floss as usual.
How Do They Work?
With ClearCorrect, we use a series of clear, removable customised trays made of BPA-free plastic to straighten your smile. Also called aligners, they allow your teeth to shift into a more comfortable position that benefits your function and bite.
What to Expect
After you and your dentist decide ClearCorrect is the right treatment option to fit your specific needs and goals, your records, X-rays, and impressions will be sent to ClearCorrect. Next, working with your dentist every step of the way, ClearCorrect devises a customised treatment plan of gradual adjustments that take your teeth from their current state to where you want them to be.
You'll just wear each set of aligners for a specific amount of time as your teeth gently shift and align until you've achieved your ideal smile. You'll visit Epping Family Dental periodically for checkups to evaluate your progress, until you eventually have the straight smile you've always desired.
Frequently Asked Questions
How many hours a day do I need to wear the aligners?
We recommend that our teen and adult patients wear their aligners for 22 hours per day to achieve the best possible orthodontic results.
How long will my treatment plan take?
It depends on the complexity of your case. Most cases are completed between 6-12 months.
Will I need to wear a retainer after my treatment is complete?
We may recommend you wear one so your teeth don't revert to their former position.
Take That First Step
Wondering if ClearCorrect is right for your smile aligning goals? Contact us today to book a consultation!

ClearCorrect Epping, Eastwood, Carlingford NSW | (02) 9868 6288