Invisalign® in Epping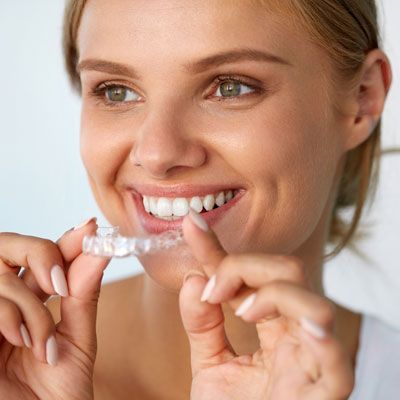 A beautiful smile builds confidence—and it's never too late to straighten your smile with Invisalign clear aligners! At Epping Family Dental, we offer this approach for adults and teens who want a beautifully aligned smile, but don't want the traditional "train tracks" braces.
This orthodontic system uses clear plastic aligners that discreetly correct your teeth alignment. By choosing Invisalign treatment, you'll enjoy predictable results because of the most advanced technology and proprietary materials used.
Benefits
In addition to being discreet, there are other advantages of this clear aligner treatment:
The trays are removable: Unlike fixed braces, aligner trays are removable, and you take them out before eating and brushing your teeth. This means you can enjoy all your favourites without worrying about foods getting stuck in wires and brackets. While the aligners are removable, you need to wear them for at least 22 hours a day for treatment to be effective.
Keeping your teeth clean is easy: Maintaining good oral hygiene with traditional braces can be a challenge because braces trap food, and bacteria can build up. With removable aligners, it's easy to keep your teeth sparkling clean.
No adjusting appointments are needed: Traditional braces need to be tightened and adjusted by the orthodontist every couple of months to keep the teeth moving correctly. With clear aligners, however, you simply wear a tray for the specified period, then move on to the next tray in the series to gradually shift your teeth into place.
What to Expect
To find out if clear aligners are right for you, contact our practice to schedule a consultation. Your dentist will let you know if this treatment is the best approach for your situation. The consultation takes just 10-15 minutes. If you are a good candidate for this treatment, the process would include:
Moulds, photos and X-rays will be taken and sent to Invisalign to design your customised treatment plan.
We'll work with you to tailor the treatment plan to meet your specific goals and aesthetics. When you're satisfied with the final outcome simulation, we'll order the trays from the lab.
You may begin treatment as soon as the trays arrive.
Frequently Asked Questions
Your treatment time depends on your specific situation. Clear aligner treatment typically takes 12-18 months on average. Aligner therapy for certain patients can be as short as six months, compared to two years for traditional braces.
Does it give the same results as traditional braces?
Yes, for the eligible cases, it does.
Do I need to wear plates/retainers after treatment?
Yes, with any teeth alignment therapy, you need to wear retainers for as long as you want straight teeth. Teeth moving is part of the ageing process, so if you don't wear the plates after therapy is over, your teeth will move as you get older.
Schedule Today
Contact us today to book a consultation to find out if Invisalign clear aligners can help improve your smile.
CONTACT US »

service Epping NSW | (02) 9868 6288