The Dentists of Epping Family Dental
Epping Family-owned and Operated Clinic
Our multigenerational family dental practice serves patients of all ages. With five highly skilled dentists on staff, we can provide a comprehensive menu of therapies including dental implants, All-on-4 treatments and even braces.
Dr Jeremy Lung, BDSc (Adelaide)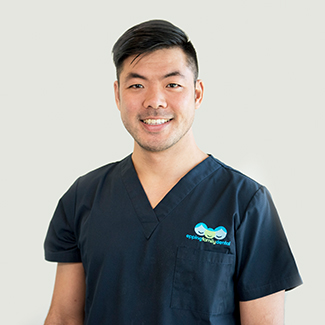 Dr Jeremy Lung received his Bachelor of Dental Surgery in 2010; he also holds a Master of Arts in Christian Studies. He enjoys every aspect of being a dentist, especially the surgery and CEREC crowns, which allow him to reconstruct even the most complex of cases. "Recreating something out of nothing is very satisfying," he says. "In fact, most nights I'm reading about implants in bed, because I enjoy it so much."
Speaking of reading about implants, Dr Jeremy Lung is constantly learning and studying more complex surgical aspects of dentistry and implant therapy. "I love it. There's nothing I would rather be doing," he says, "I'm very lucky." When he isn't at work, he's constantly travelling to take professional development courses on the subject.
Outside of the Office
If Dr Jeremy Lung isn't studying or seeing patients, he enjoys cycling at least two or three days a week. In 2016, he had a fall and broke his shoulder, but he says that he loves the hobby almost as much as he loves dentistry, so there's no giving it up. Dr Lung is passionate about helping others through an organization called YWAM Association-a dental service ship which travels to Papua New Guinea (PNG) to provide dental care to those who do not have access to it on a regular basis. Read More…
He and his wife are extremely active at their home church, C3, where he serves on the worship team.

Dr Douglas Lung (Dentist)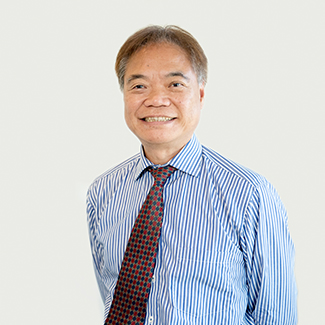 After receiving a Bachelor of Science in 1978 from the University of Alberta, Dr Douglas Lung earned a Bachelor of Dental Surgery in 1984 from The University of Sydney. He is passionate about working with people and helping them achieve healthy, beautiful smiles.
To advance his dental education, Dr Douglas Lung attends various courses throughout the year. He is also a part of the following organisations:
Australian Dental Association
International Team for Implantology
Hills Study Club
Outside of the Practice
When he's not at the practice, Dr Douglas Lung loves to sing! He's been part of his local choir for over 10 years.

Dr Simon Cha (Dentist)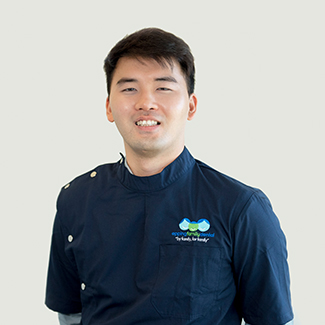 "I love being able to rebuild what is broken and create aesthetically and functionally pleasing teeth from scratch." Though he finds it satisfying to create beautiful smiles, Simon Cha didn't always want to be a dentist. "I wanted to be a pianist when I was a teenager. Although I am a huge fan of music, the nomadic lifestyle of a musician was not particularly appealing."
Simon Cha received a Bachelor of Dentistry from The University of Sydney in 2014. To further his education, he has taken an Orthodontics course from the Australian Dental Association. He is a member of the Association and Dental Protection Limited.
Hobbies and Interests
Outside of the practice, Simon Cha likes to play the piano, binge-watch Netflix, hang out with mates, enjoy late-afternoon swims and check out the unlimited supply of new, up-and-coming cafes and restaurants in Sydney!
Dr John Tran (Dentist)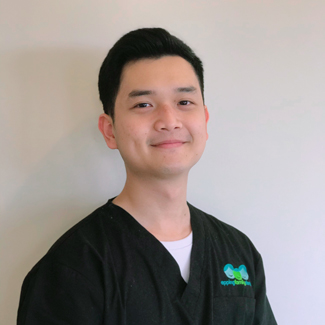 With a goal to restore the oral health of his community while transforming the lives of patients for the better, Dr John enjoys every bit of being a Epping dentist. Each day, he loves meeting new patients and the ability to form a deep connection while helping them to achieve their goals in oral health.
Dr John attended Griffith University where he obtained his Bachelor of Oral Health in Dental Science as well as a Graduate Diploma of Dentistry in 2018.
In order to provide his patients with the best possible care, he continues to participate in educational courses each year. Coming soon, he'll attend a series on restorative and prosthetic dentistry. Dr John currently holds a membership with the Australian Dental Association.
"Nothing excites me more than to see patients leave my clinic with a bright smile that they can show off. To be able to make people look and feel amazing is extremely fulfilling." -Dr John, Dentist.
Outside of the Practice
When he isn't crafting beautiful smiles in the practice, Dr John enjoys playing tennis, billiards and video games. He also loves to see new movies, attend local jazz bars and concerts, and explore all of the incredible restaurants around Epping.
Get to know more about Dr John when you visit us for your next visit. We look forward to welcoming you to our practice.
Dr Li Ann Ooi (Dentist)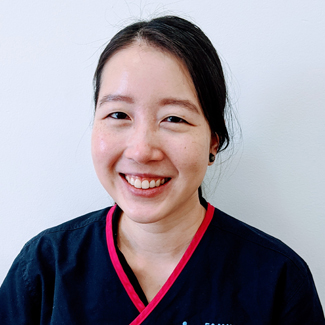 After graduating from the University of Sydney with a Bachelor of Science (Adv) and Doctor of Dental Medicine in 2015, Dr Li Ann went on to work in Canberra, honing her skills in general dentistry. She then made her move back to Sydney to be closer to family and friends, and to escape the wintry cold of Canberra.
For Dr Li Ann the most rewarding part of her job is getting a patient out of pain. Seeing someone happy to be able to eat again or smiling into the mirror is why she studied so hard.
Her gentle and empathetic nature puts both adults and children at ease in the dental chair. Dr Li Ann also continues to pursue professional development courses to maintain and improve her dental expertise.
Outside of the Practice
When she isn't at the clinic, you can find her enjoying coastal walks, reading fiction on weekends, and binge-watching her favourite TV shows.
Dr. Amanda To (Dentist)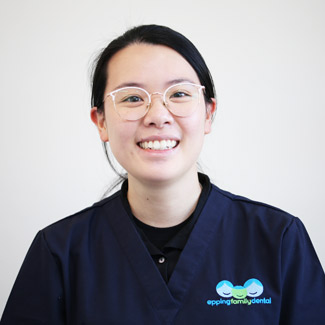 Dr. Amanda To received her Bachelor of Medical Science from the University of Sydney. She went on to earn her Doctor of Dental Medicine at the University of Western Australia. Dr. Amanda is passionate about family-oriented preventative and restorative dentistry. She finds great personal satisfaction and motivation when she sees positive outcomes and lifestyle improvements for her patients.
Amanda has been described by her friends and colleagues as happy and bubbly. One colleague states "she has a positive impact on everyone she interacts with".
Outside of the practice
On her days off she can be found grazing the local markets for fresh produce and perfecting a scrumptious recipe to share with her friends and family. She also enjoys hitting the road to explore a new place in search of her next great adventure.

Sharon Chang (Oral Health Therapist)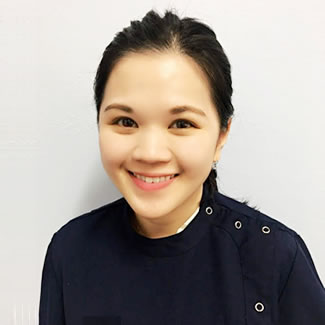 "Working as a dental assistant for four and a half years, I have seen many patients with dental anxiety, as well as poor oral hygiene knowledge and habits. Therefore, I was inspired to want to do more to help those patients."
For Sharon, the most fulfilling aspect of being an oral health therapist is providing the most comfortable dental experience to both children and adults. She also finds it rewarding to see patients improve their oral hygiene habits and knowledge.
Sharon earned a Bachelor of Oral Hygiene & Therapy from Charles Sturt University in 2018. She also possesses a Certificate 3 and 4 in Dental Assisting. In 2020, Sharon earned an Extended Adult Restorative qualification from the University of Sydney.
Outside of the Practice
When she's not caring for patients' smiles, Sharon enjoys bushwalking and cooking.
Enhance Your Smile at Epping Family Dental
Experience a welcoming atmosphere where our family-oriented team puts your oral health needs first. Contact Epping Family Dental today to schedule your first visit or implant consultation with us. We're open on Saturdays.
EXPLORE OUR SERVICES »

Epping Family Dental Dentists | (02) 9868 6288