Dental Bridges in Epping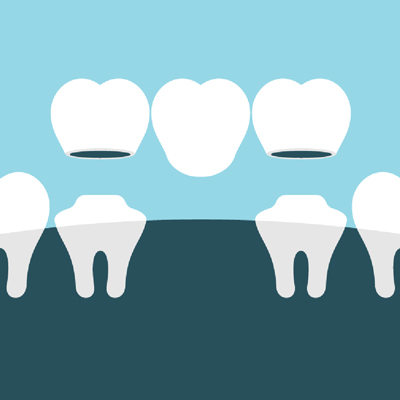 Do you have missing teeth or outdated dental bridges? At Epping Family Dental, Dr Jeremy Lung (Dentist) offers custom dental bridges to restore your smile to a functional, attractive state.
What are Dental Bridges?
This treatment is a multi-tooth restoration that allows us to replace one to two teeth at a time. Either end of the bridge is attached over a healthy tooth with what looks like a functional crown, suspending a porcelain crown between them over the open space.
When to Get a Dental Bridge
Bridges are an excellent option for someone with a missing tooth who may not have enough bone to support a dental implant. They're also ideal for replacing older dental work, as the average lifespan of these restorations is about 10 years.
How to Care for Your New Restoration
The better you tend to your fixed bridge, the longer it will last. These restorations need more attention than natural teeth, as food or bacteria can collect around the edges or between the bridge and your gums.
For best results, clean underneath your bridge daily. A floss threader, proxy-brush or water flosser is effective. Be sure to clean around the supporting teeth, to prevent new areas of decay or gum disease from forming. Be mindful of your sugar intake, as hard-to-clean areas around bridges can be more susceptible to tooth decay.
Should I Get a Dental Bridge?
With the option of dental implants, this treatment isn't as popular as it once was. However, they are still appropriate in some situations. During your dental exam, we'll evaluate your teeth to discuss the advantages of bridges, implants or other tooth replacement options. You'll get to play an integral part in selecting the best treatment for your smile.
Payment Plans Available
Your treatment may be covered by your private health coverage. Flexible financing options are also available.
Request an appointment to learn more. We look forward to welcoming you into our care.
CONTACT US »

Dental Bridges Epping, Eastwood, Carlingford NSW | (02) 9868 6288