Meet Dr Jeremy Lung, BDSc (Dentist)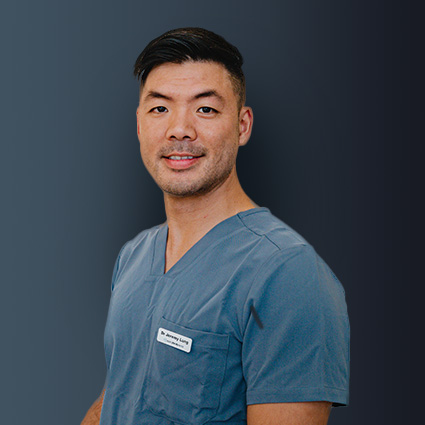 Dr. Jeremy Lung, a skilled and dedicated dentist, began his journey in the field with a Bachelor of Dental Surgery in 2010, further enriching his knowledge with a Master of Arts in Christian Studies. With a particular fascination for surgical dentistry and Smile restoration and Dental Implants, he finds great fulfillment in conquering the most intricate dental cases.
The art of crafting a flawless smile from scratch fuels his passion, often leading him to spend his evenings engrossed in literature about dental implants. With a continuous zeal for learning, Dr. Lung has persistently engaged in advanced studies, focusing mainly on the surgical facets of dentistry and implant therapies; "I've found my calling," he confesses with a proud smile.
His commitment extends beyond the confines of Epping Family Dental, as he remains on a constant quest for professional growth, traversing the globe to attend development courses related to his area of expertise.
Still, adversity struck hard in 2019 when Dr. Lung suffered a severe accident that resulted in him being wheelchair-bound. Rising above the challenge, though, he continues to perform exemplary implant surgeries, demonstrating resilience that is truly inspirational.
In the midst of this personal journey, Dr. Lung has welcomed a beautiful addition to his family and has been balancing the joy of fatherhood with the growth of his dental practice.
Simply put, Dr. Jeremy Lung is a remarkable figure that embodies expertise, resilience, and heart in all that he does.
A Journey Of Courage
Get an intimate look at Dr. Jeremy Lung's extraordinary journey of courage and resilience in this deeply personal video. "Dr. Jeremy Lung's Resurgence: A Cycling Accident, Wheelchair, and the Astonishing Role of Dentistry" explores the life-altering accident in 2019 that left him navigating life from a wheelchair.

Dr Jeremy Lung, BDSc | (02) 9868 6288