Dr Jeremy Lung, BDSc (Dentist)
Education and Training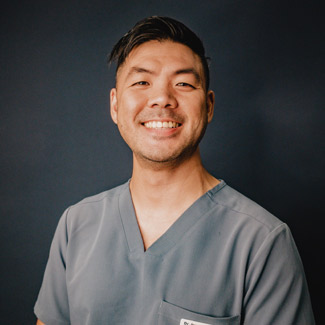 Dr Jeremy Lung received his Bachelor of Dental Surgery in 2010; he also holds a Master of Arts in Christian Studies. He enjoys every aspect of being a dentist, especially the surgery and CEREC crowns, which allow him to reconstruct even the most complex of cases. "Recreating something out of nothing is very satisfying," he says. "In fact, most nights I'm reading about implants in bed, because I enjoy it so much."
Speaking of reading about implants, Dr Jeremy Lung is constantly learning and studying more complex surgical aspects of dentistry and implant therapy. "I love it. There's nothing I would rather be doing," he says, "I'm very lucky." When he isn't at work, he's constantly travelling to take professional development courses on the subject.
Outside of the Office
If Dr Jeremy Lung isn't studying or seeing patients, he enjoys cycling at least two or three days a week. In 2016, he had a fall and broke his shoulder, but he says that he loves the hobby almost as much as he loves dentistry, so there's no giving it up. Dr Lung is passionate about helping others through volunteer work with an organization called YWAM Association – a dental service ship which travels to Papua New Guinea (PNG) to provide dental care to those who do not have access to it on a regular basis.
He and his wife are extremely active at their home church, C3, where he serves on the worship team.

Dr Jeremy Lung, BDSc | (02) 9868 6288