Root Canal Treatments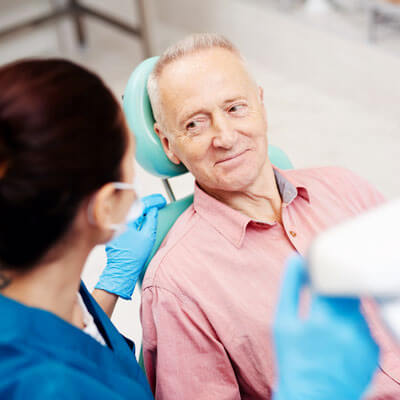 Are you experiencing severe discomfort in one or multiple teeth? Have you damaged, cracked, or chipped a tooth? If the nerve in one or multiple teeth has been compromised, it's likely that you'll need a root canal.
Thankfully, we offer effective and focused root canal therapy that can be completed in just two quick practice visits.
Here's more about the process.
What You Can Expect
After a tooth has experienced enough trauma to damage or even 'kill' the nerve inside of it, getting a root canal becomes a necessity. Why? Without it, your tooth will continue to decay, become susceptible to a bad infection, fall out, and even damage other teeth in your mouth as bacteria spreads-ultimately resulting in the need for more costly dental work.
At our practice, we aim to make the process not only simple, but painless.

Undergoing a root canal is a two-step process.
You'll visit us for an initial examination and cleaning of the area. We'll determine if you currently have an infection and need to have a course of antibiotics to clear it up before moving forward. We'll also examine your mouth and surrounding teeth to determine the extent of damage and make a plan for going forward.
We'll be sure to explain our findings in detail to make you an active partner in your care. We'll go over any financial obligations not covered by your health fund and let you ask any questions about the process moving forward.
Then, we'll schedule a visit for your next appointment.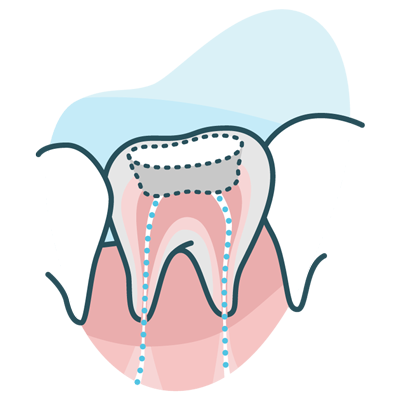 After a week or so, you'll return to our practice for the second part of your root canal process. At this appointment, we'll clean your teeth and surrounding gums before drilling into your tooth to remove the infected pulp. Don't worry-you'll have received a local anaesthetic by now and will be entirely comfortable throughout the process.
After the nerve has been removed, we'll pack the tooth with a filling material to help it keep its integrity. If you've decided you'd like a crown straightaway, we'll also place your custom crown at this time, which will be colour-matched to the rest of your smile.
After, you'll be free to go! We'll likely schedule you for a brief follow-up visit in the near future to make sure everything is feeling (and looking) wonderful.
Frequently Asked Questions
How long will I have to spend in the practice?
Your first visit will last roughly 45 minutes as we inspect your mouth, clean the area and determine the best course of care. Your second visit may last up to two hours if a crown is also being placed.
Will I need a second root canal?
Generally speaking, no, you shouldn't ever need a second root canal on the same tooth. It's possible that in the future, if another tooth is damage or infected and the root is compromised, another treatment may be necessary.
What are the symptoms of needing this therapy?
Most people who are in need of visiting us for a root canal are those dealing with severe oral infections, gum disease, severe tooth discomfort, and even a 'darkened' tooth colour which may look gray or translucent-something that happens as the tooth continues to 'die'.

Root Canal Treatments Epping, Eastwood, Carlingford NSW | (02) 9868 6288