Braces in Epping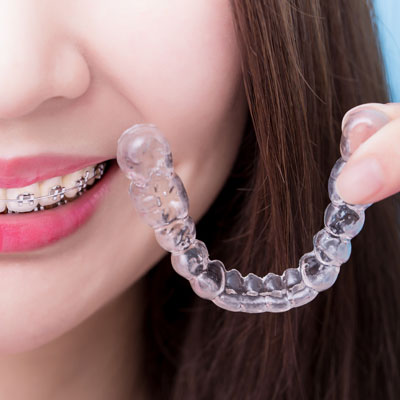 Wish you had a straighter smile? Epping Family Dental can help. During your dental exam, Dr Jeremy Lung (Dentist) will evaluate the way your teeth align to determine if orthodontic therapy could be beneficial to your oral health or appearance.
Benefits of Braces
When teeth are crooked or crowded, it can interfere with jaw alignment and oral hygiene. By correcting tooth alignment with braces, it's possible to promote a healthier and more attractive smile. People with significantly misaligned teeth are more likely to experience
Cavities
Gum disease
TMJ concerns
Irregular tooth wear
Dental emergencies
Broken dental work
Who is a Candidate for Braces?
Adults and children alike may be ideal candidates for braces if there are concerns of crooked, crowded or gapped teeth. The average case takes anywhere from 6-24 months to complete, depending on the individual. With earlier intervention, we can limit the extent of bite concerns later on.
Depending on your age and bite concerns, treatment options include:
Traditional Braces: Conventional bracket-and-wire systems are effective for all ages of patients.
Clear Aligners: Removable orthodontic systems like Invisalign trays or ClearCorrect are a discreet alternative to braces. Adults and teens make excellent candidates.
Early Intervention for Children
Around the ages of 6-8 is the perfect time to assess your child's oral development. At this stage, we can evaluate eruption patterns of their adult teeth and screen for bite discrepancies before they start.
Sometimes, early orthodontic intervention is necessary-especially if there is premature tooth loss, an impacted tooth or visible crowding.
Early orthodontic intervention helps correct growth patterns and tooth eruption while your child is still growing. That way if they need braces, the length and complexity of their treatment are kept to a minimum.
Orthodontic Evaluations
We offer in-house orthodontic assessments as part of your routine checkup and clean. Reserve your next visit today. All ages are welcome. Learn more by giving us a call!

Veneers Epping, Eastwood, Carlingford NSW | (02) 9868 6288